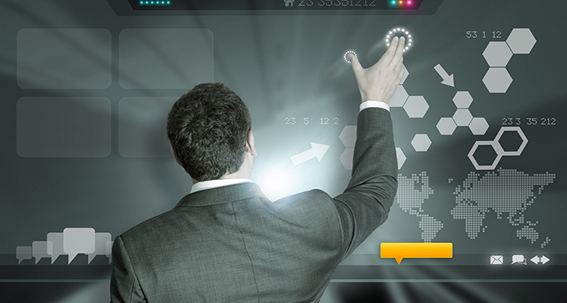 Industry professionals recognize Sheridan as the best interactive multimedia college in Canada. In the Interactive Media Management program (formerly Interactive Multimedia), students learn to create, manage and develop Web and mobile content leveraging a curriculum in usability, interactivity, Web programming, social media, and emerging mobile technologies in an interdisciplinary, interprofessional collaborative learning environment.
Students learn to build interactive media environments from the ground up, using industry best practices for interface design and interactive programming. The IMM program teaches how to use HTML5, CSS3, Javascript/jQuery, PHP, APIs and other technologies to design and build interactive digital media, mobile web, second screen experiences, physical computing and natural user interfaces (NUI) interactivity utilizing emerging technologies of multi touch, gesture capture and mediated reality.
Our graduates find themselves comfortable as independent designers/producers or as members of creative, technical and marketing teams. Alumni of our program are producing interactive features and sites for TVO, Much Music, CBC Kids, Sympatico/MSN, Royal Ontario Museum (ROM), Halton Region, WestJet, Canadian Football League (CFL), Labatt's Blue and Xenophile Media developing interactive television.
IMM graduates continually win awards at industry conferences and festivals for their innovative and compelling web, mobile and multi media work. Recent awards include at SXSW, Gold at Cannes 2012 – Cyber Lion and a Digital Emmy.
Interactive Multimedia is taught by award winning full and part time professors who are sought after by industry for demonstrations and speaking engagements at conferences and workshops.
Upcoming and previous Speaking Engagements include:
FITC: Screens
MinneWeb Con
FITO Meet-ups
FITC: Spotlight HTML5
FITC
Toronto WordCamp
TalkMedia
Hamilton Demo Camp
HighEd Web Conference Series
IxDA Tornoto
Editors' Association of Canada
Sheridan/RIM Wireless & Mobile Summit
Classes are small and intimate, ensuring plenty of direct student-instructor interaction. There's no better place to prepare for an interactive multimedia career.
Our interactive media lab provides you access to mobile devices and tablets, Kinects cameras, Arduino microprocessors, Leap Motion and other up and coming technologies to provide you with a unique learning experience. Come see why Sheridan IMM is widely recognized as the best.

"Creating involves making; making interactive media involves technology."